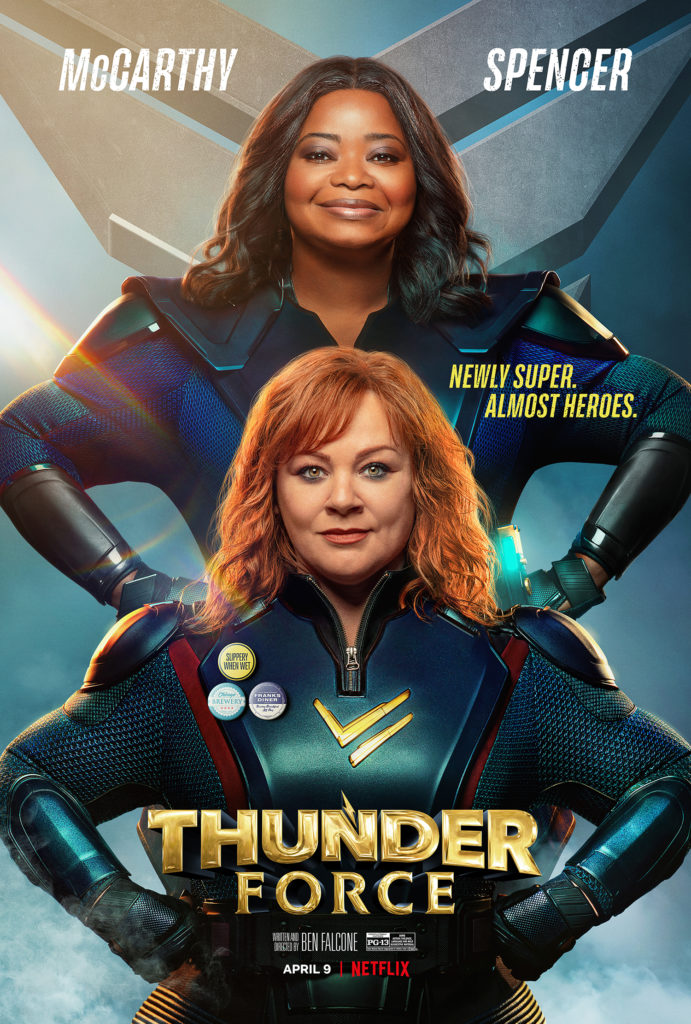 ThunderForce (2021)
PG-13‧ Action Comedy‧ 1h 47m
Written by Ben Falcone
Directed by ‎Ben Falcone 
THE CAST
Melissa McCarthy, Octavia Spencer, Pom Klementieff, Jason Bateman
THE STORY
(In their own words) Two childhood best friends reunite as an unlikely crime-fighting superhero duo when one invents a formula that gives ordinary people superpowers.
THE REVIEW
My fourteen year old daughter and I love watching superhero films and tv shows together. We watch a lot and there isn't much we haven't seen. Seeing the trailer for Netflix's superhero film Thunder Force intrigued us both. We enjoy Melissa McCarthy's comedies and the varied roles of Octavia Spencer. The concept of two 40-something women becoming superheroes was something we hadn't seen yet, sonar high hopes. Thunder Force did not disappoint.
First off, as a comedy, there's not a lot of films that make both my daughter and I laugh. This one absolutely did. We both had many hard belly laughs during the film. This hit all the boxes for a comedy; unexpected punchlines, absurdity, impeccable timing. It delivered.
The film was both an origin story and a fish out of water story. McCarthy and Spencer had great comedic chemistry together though had trouble connecting on a personal level, but I put more blame on the script for this as it forced the characters into a renewed friendship it hadn't earned yet.
Justin Bateman was the biggest surprise for me. His character of a half-man half-crab was absolutely hilarious and he played it perfectly.
I think you'll enjoy this movie if you are ready for some unconventional superheroes and enjoy some laughs.

THE BEST
Three BEST things about the film
1. The comedy. I had more full belly laughs than I have had in a long time.
2. Original Premise for a superhero team.
3. Justin Batman's character as a half crab/ half human is one of the funniest things I've seen in a long time.
THE WORST
The three WORST things about the Film
1. Predictable villains.
2. Relationship plot points stretched a bit far to get the story going.
3. Forced conflicts. The conflicts took a lot of twisting to make them happen. 

THE LESSON
Superpowers aren't as important as the person who wields them.
THE FINAL WORD
This original superhero film provided some of the hardest laughs I've had from a movie in a while. I watched with my teen daughter who also really liked it. Good family entertainment, with a different kind of superhero role model than you usually get.

THE VERDICT
My 3L system gives me the choice to Love It, Like It, or Lose It.
Thunder Force gets a Like It.