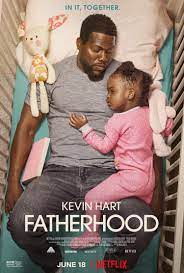 Fatherhood (2021)
PG-13 ‧ Comedy/Drama ‧ 1h 49m
Written by screenplay by Paul Weitz and Dana Stevens, based on a memoir by Matthew Logelin
Directed by ‎Paul Weitz
THE CAST
Kevin Hart, Alfre Woodard, Frankie R. Faison, Lil Rel Howery, DeWanda Wise, Anthony Carrigan, Melody Hurd, and Paul Reiser.
THE STORY
(In their own words) A father brings up his baby girl as a single dad after the unexpected death of his wife who died a day after their daughter's birth.
THE REVIEW
Most movies I go into, I try to know as little about it as I can. It's so easy to sway your opinions about a film based on trailers, things mentioned in interviews, etc. so when I watch a film I want to have as much a pure experience as I can. But even knowing who the actors are in the film can sometimes mislead you. As is the case with this Fatherhood billed as a Kevin Hart film, with a trailer showing him trying to figure out how to be an unexpected single dad. Netflix trailers are horrible about giving away too much of the story. So as soon as I started watching the trailer, I admit that I turned it off pretty quick, so that I could enjoy the film and be surprised.
So what I was expecting was a pretty funny story about a man who accidentally became a dad and ends up in all sorts of shenanigans. I mean the basic premise is most of Kevin Hart's films. Accidental something….lots of shenanigans ensue. And even in the small part of the trailer I did catch, it showed Kevin going into a mom support group asking some funny questions and telling some funny stories, so that's what they wanted me to think. Because that's why people watch Kevin Hart films. Boy, was I wrong.
This film had me crying in the first 10 minutes. It is a sad movie, it is a sad story, and it is sadly executed. The only reason I can imagine casting Kevin Hart in the film was to try to make it some sort of dark comedy, which they certainly do attempt. Their attempt at humor and really dark moments, and I don't know if it was just miscasting, or bad delivery, but they do not hit the mark. It doesn't really come across funny. Yes, the intentional goofy moments do, but not the dark comedy.
The film starts off at a funeral for Matthew's wife, as he starts her eulogy. Quickly, it flashes back to her death, which leaves him with a newborn to raise on his own. The rest of the story quickly falls into place, we see his abilities questioned and a challenge for him set up. The story is then very predictable and we know what all the plot points will be. Anybody who has seen a movie knows how the rest of this movie is going to pan out, it's just a matter of timing and how they get there. It's the kind of movie that you hope they will make some surprising choices, but they don't. And with the actors they had to work with, those boring choices are really disappointing. If they had leaned into the strength of the actors, it could've had some surprising and interesting moments.
After seeing the movie, I learned that it was based on a memoir. So, I can only guess if they were trying to honor the real life story. The only problem is memoirs like this aren't that exciting. In that sense they were pretty faithful to the book.
THE BEST
Three BEST things about the film
First 15 minutes are decent at creating a connection with the audience.
The story has some real heart to it. 
Kevin Heart has a really great moment of acting in this when he learns about his wife.  
THE WORST
The three WORST things about the Film
Predictable.
Attempts at dark comedy fail 
Lack of connection to characters after the first 15 minutes. 
THE LESSON
Kids will be fine when they are being raised with love.
THE FINAL WORD
Like a bad father, skip this film Predictible, bad acting, and story that had too much lacking. .
THE VERDICT
My 3L system gives me the choice to Love It, Like It, or Lose It.
Fatherhood gets a Lose It.