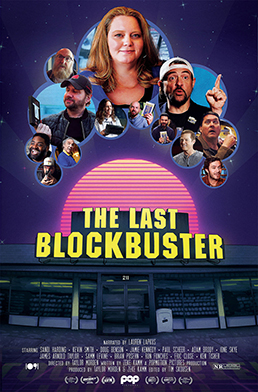 The Last Blockbuster (2020)
NR Documentary ‧ 1h 26m
Written by Zeke Kamm
Directed by ‎Taylor Morden
THE CAST
Sandi Harding, Doug Benson, Ron Funches
THE STORY
(In their own words)
A documentary on the last remaining Blockbuster Video, located in Bend, Oregon.
THE REVIEW
This is a documentary about the final Blockbuster Video store in Bend, Oregon. The documentary details the rise and fall of Blockbuster Video and how this one blockbuster manages to stay in business through the downturn of the video rental business.
While much of the film focuses on the franchise owner and operator Sandi Harding, The film interviews industry professionals and a lot of comedians for a trip down memory lane. At times it feels less like a documentary and more like a VH1 special.
The general appeal of this movie is this desire to take a look at nostalgia and rituals that we as a country we're all part of. Renting videos for the weekend was one of them for a couple decades. This movie is not going to change your life in any way. You won't feel like a more knowledgeable person, aside from a little information about why Blockbuster actually failed, which I will say was a surprise to me. Usually I watch documentaries because I want to become better educated about a subject. This one, I don't even know why I wanted to see it. Maybe it's just nice to see a small business owner figuring out how to prosper despite a changing world around them.
Mostly, I think it's just an opportunity to reminisce with my wife about an experience we both had even though we didn't know each other. Somehow watching it together and talking about it afterwards makes us somehow feel closer.
THE BEST
Three BEST things about the film
Lauren Lapkus' delightful narration.
Fun nostalgia conversation sparker.
Interesting insight into what really happened to the business.
THE WORST
The three WORST things about the Film
There isn't a ton to learn from the documentary.
You don't leave the documentary feeling smarter than anyone else.
There is no message really.
THE LESSON
Don't give up your business until someone pries it from your cold, dead hands.
THE FINAL WORD
If you need a walk down nostalgia lane with not too much to think about, this is a great little documentary to check out.
THE VERDICT
My 3L system gives me the choice to Love It, Like It, or Lose It.
The Last Blockbuster gets a Like It