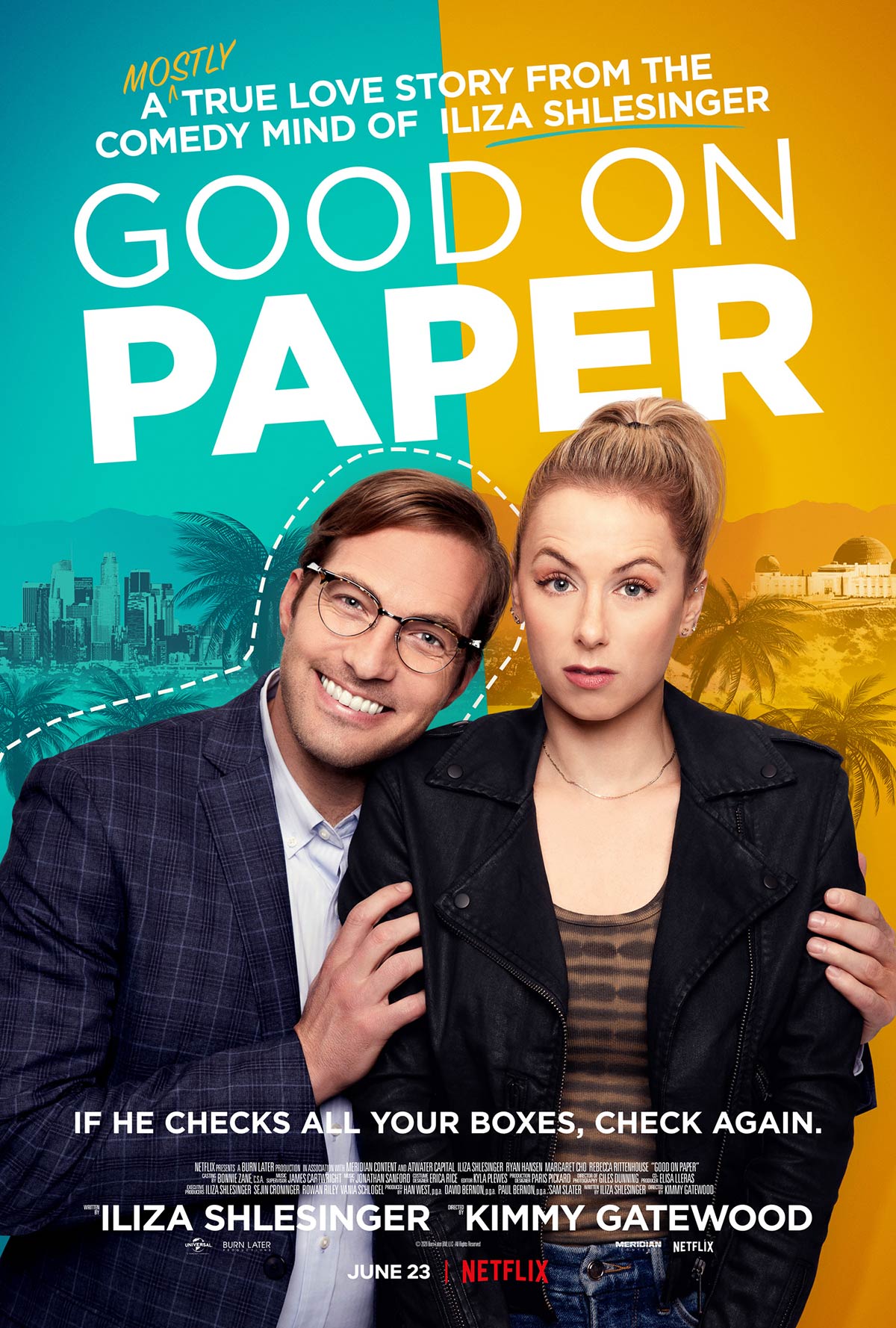 Good On Paper (2021)
R ‧ Drama ‧ 1h 32m
Written by Iliza Shlesinger
Directed by ‎Kimmy Gatewood
THE CAST
Iliza Shlesinger, Ryan Hansen, Margaret Cho, and Rebecca Rittenhouse.
THE STORY
(In their own words) After years of putting her career first, a stand-up comic meets a guy who seems perfect: smart, nice, successful and possibly too good to be true.
THE REVIEW
Good On Paper is Iliza Shleslinger's first feature film as the writer. And it makes sense because the film is a lot like her comedy……It's okay. Nothing really inventive about it, lots of energy, but you often feel like that makes up for the lack of substance.
The film has its moments; A funny character, good chemistry between a couple of the actors. But overall it's not very memorable. What stands out the most is the things that don't make much sense.
This is the directorial debut of Kimmy Gatewood. And while she didn't show anything special with the film, it's hard to fault her. It's a tough spot to be in directing the lead actor who is also the writer of the film and the executive producer. In those cases, you are there to project manage. And it does manage. The story basically makes sense up until the last 15 minute resolution, where clearly the writer didn't know how to end the film, so it just does.
Good On Paper won't do much to help anyone's career but it won't hurt it either. A perfectly mediocre, predictable and forgettable film. If you're a fan of Shlesinger, check the film out while you can still find it on Netflix.
THE BEST
Three BEST things about the film
Iliza was very comfortable in this role she wrote for herself.
Good chemistry between best friend Andrea & Margeret.
Some really funny characters.
THE WORST
The three WORST things about the Film
Writing felt hurried leading to a weak ending.
Plot was really a stretch.
Intercut "comedy routine" wasnt necesssry. A bit dated.
THE LESSON
Trust but verify.
THE FINAL WORD
Good On Paper turns out to be "Okay" in practice. Watch it or don't, you probably won't remember either way.
THE VERDICT
My 3L system gives me the choice to Love It, Like It, or Lose It.
Good On Paper gets a Lose it.