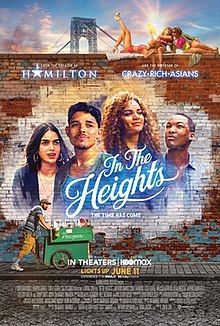 In The Heights (2021)
PG-13‧ Musical/Drama ‧ 2h 23m
Written by by Quiara Alegría Hudes  
Music by Lin-Manuel Miranda
Directed by ‎Jon M. Chu
THE CAST
Anthony Ramos, Corey Hawkins, Leslie Grace, Melissa Barrera, Olga Merediz, Daphne Rubin-Vega, Gregory Diaz IV, and Jimmy Smits
THE STORY
A film version of the Broadway musical in which Usnavi, a sympathetic New York bodega owner, saves every penny every day as he imagines and sings about a better life.
THE REVIEW
It's hard to write a review about In The Heights because all I want to do is scream "In The Heights is the best musical film I've seen!" and then go watch it again. From top to bottom this film is stunningly good. This Broadway play adaptation does so well at adapting to the big screen that I wouldn't have known it was an adaptation just from watching it. The script and the songs flow seamlessly from location to location where adaptations often struggle with that.
I was hooked from the opening 5 minute number where we are introduced to the lead character Usnavi and the people and world around him known as Washington Heights in New York. A place you need to scream its name out loud so people won't forget it. This 5 minute opening number with it's exquisite lyrics, amazing dancing, delightful choreography, and interesting character introductions, set the tone for what I would be watching for the next nearly two and a half hours.
Like most musicals, there is a love story going on, as we see Usnavi's infatuation with local girl Vanessa, a hair stylist with dreams of living downtown and having a fashion career. Much of the story follows Usnavi's point of view as he has put himself as the center of the neighborhood owning a small local bodega, where most people find themselves at some point during the day.
The story lines are not super original, but it's presentation is one we've never seen before. It is multiracial and cross cultural. It's filled with every shade of brown that we rarely see in Hollywood musicals. The music is a richly layered blend of hip-hop, soul, and latin rhythms. Audiences will recognize the musical style of Lin-Manuel Miranda from the more famous production Hamilton, but In The Heights is an earlier piece of work. For people who just became musical fans because of Hamilton, In The Heights may continue their journey into this lovely world.
THE BEST
Three BEST things about the film
1. The music & lyrics.
2. The group dances.
3. The giant cast full of POC
THE WORST
The three WORST things about the Film
1. Very long runtime
2. The lead Usnavi has too few obstacles in his pursuit of his love interest.
3. There's a reveal that happens a little too soon.
THE LESSON
Paradise is where you call home.
THE FINAL WORD
One of, if not the best film musical I've seen. It makes you want to dance and forces you to smile. Creative, compelling, and non-stop. Let yourself be swept to new musical heights with this movie.
THE VERDICT
My 3L system gives me the choice to Love It, Like It, or Lose It.
In The Heights gets a Love It.