This week on Black And A Half, Manny and Silas welcome HB Radke, who played all of the music for Silas' Parody CD Frozen In Carbonite. HB is a man of many talents and we were able to touch on just a few of those.
About Our Guest: HB Radke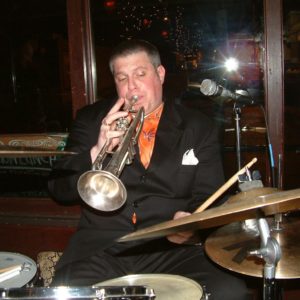 HB Radke has performed for over 45 of his 50 years. A whiz on the trumpet at the age of 6, HB played his first gig with Connie Stevens and Rich Little. With the helpful tutelage of HB's father, former Harry James lead trumpeter Fred Radke, he started his own big band just a year and a half later.
The HB Radke Orchestra became an instant hit in the Seattle area. Local TV performances ultimately led to command performances for Presidents' Ronald Reagan and George Bush, as well as numerous national TV shows. As HB grew older so did the band. He studied at the Grove School of Music in Los Angeles, and took a side trip into the world of Disco and House music production.
Today HB is an accomplished writer of songs and screenplays. He is a creative content creator of visual and audio media. When he's not "making a thing" he's spoiling his Pugs.
Check out HB at these links:
Podcast: Play in new window | Download
Subscribe: Apple Podcasts | RSS