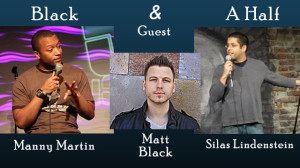 The year kicks off with another great episode with special guest, comedian Matt Black. Matt is the man behind DrHeckle.com, an internet humor website that commonly posts humorous pics before they make it to mainstream websites.
About Matt Black
Matt Black (aka Dr. Heckle) is a comedian, writer, and actor from Seattle, Washington.
He started comedy at 12 years old when he drew a comic strip for his school paper. After years of drawing and writing "funnies" for various newspapers and magazines, he started the critically acclaimed comedy website "Dr. Heckle" in 2005.
His unique, imaginative joke writing and intense passion for making people laugh sent him down the path of stand-up comedy. He recently won the Darrell's Invitational Comedy Competition and was a finalist in the 2012 Joke Off Comedy Competition. He regularly performs at comedy clubs, casinos, and theaters. He currently produces and performs at "Heckle's Comedy Show," with acts every week from across North America.
Most recently you may have seen him in a commercial for Conair razor's "Get the Edge" ad campaign. Recognized as one of the hardest working comics on the scene, you won't want to miss a performance from this up and coming bright star in the world of comedy.
Podcast: Play in new window | Download
Subscribe: Apple Podcasts | RSS