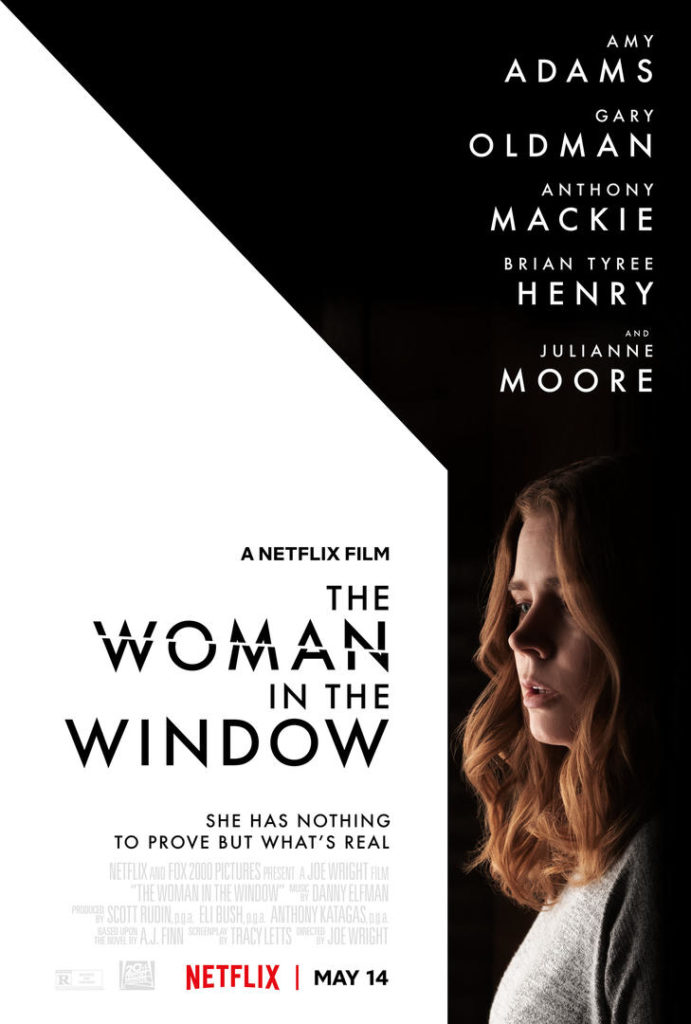 The Woman In The Window (2021)
R ‧ Mystery/Drama/Crime ‧ 1h 40m
Written by Tracy Letts
Based on a book by J. Finn
Directed by ‎Joe Wright 
THE CAST
Amy Adams Gary Oldman, Fred Hechinger, and Julianne Moore, Anthony Mackie, Wyatt Russell, Brian Tyree Henry, and Jennifer Jason Leigh
THE STORY
(In their own words) An agoraphobic woman living alone in New York begins spying on her new neighbors, only to witness a disturbing act of violence.
THE REVIEW
I've never before had a film suck me in because of the cinematography. But from the opening shot of The Woman In The Window I was compelled to learn what was going on. The story of Anna, an agoraphobic woman trying to deal with the grief of the pending end of her marriage, leans heavily into the cinematography to capture Anna's emotional turmoil in dealing with the outside world and her new medication. The camera takes odd positions and movements and provides sharp cuts that mirror how she is feeling. This assists with your understanding and empathy of her, along with the wonderful performance by Amy Adams.
The mystery of the film revolves the apartment across the street, the new tenants, and Anna's witnessing of a murder there. This film has more red herrings than a communist fish market. Trying to figure out what's really happening and what is happening in Anna's medicated brain is half the fun.
The film kept me alert and on the edge of my seat as I tried to figure out what was going to happen next. I credit both Amy's Adams' performance and solid mystery writing. There's not a lot of films that surprise me these days and this film really had me in the dark, in a good way.
At times the film seems almost too familiars as there are some clear nods to Hitchcock films, particularly Rear Window, which you even catch a snippet of on the TV in beginning. While director Joe Wright may not be a Hitchcock, this film would definitely make me want to check out future mysteries he directs.
Ultimately, isn't that what we want from a film? Something so good you want to see what else the creators have or will make.
THE BEST
Three BEST things about the film
1. Cinematography, really felt the film from the POV of the lead through clever cinematography.
2. Amy Adam's performance. Dynamite acting role in this.
3. Writing – Particularly the aspect of the mystery. It was a great mystery.
THE WORST
The three WORST things about the Film.
1. The female cop was too distrusting and almost belligerent of Anna. It didn't make sense.
2. Expositional ending.
3. Big plot point became obvious too early.
THE LESSON
Fear begets fear.
THE FINAL WORD
A thriller and mystery that pulls you in from the beginning and delivers one of the best understandings of agoraphobia yet on film.
THE VERDICT
My 3L system gives me the choice to Love It, Like It, or Lose It.

The Woman In The Window gets a Like It.