The Super Mario Bros. Movie (2023)
PG ‧ Action Adventure ‧ 1 Hours 32 Minutes
Written by Matthew Fogel
Directed by Aaron Horvath, Michael Jelenic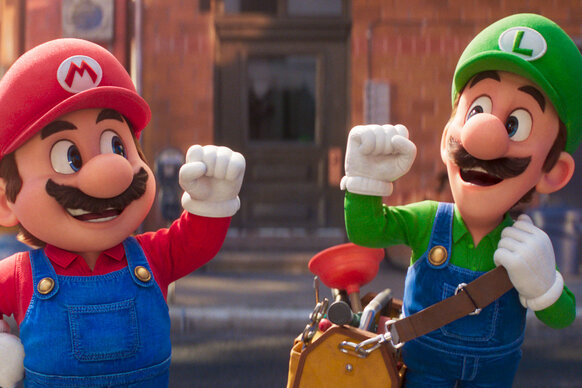 THE CAST
Chris Pratt as Mario
Anya Taylor-Joy as Princess Peach
Charlie Day as Luigi
Jack Black as Bowser
Keegan-Michael Key as Toad:
Seth Rogen as Donkey Kong:
Fred Armisen as Cranky Kong:
Sebastian Maniscalco as Foreman Spike
Charles Martinet, who voices Mario and Luigi in the Mario games, has various cameos.
Kevin Michael Richardson as Kamek
THE STORY
(In their own words). With help from Princess Peach, Mario gets ready to square off against the all-powerful Bowser to stop his plans from conquering the world.
THE BEST
The BEST things about the film
Nostalgia.
About half the time they did a great job translating the world of mario from a game to a narrative.
Visually, sort of stunning. But not surprising. Some things are just really cool to see in a movie setting.
Jack Black is wonderful in the role of Bowser.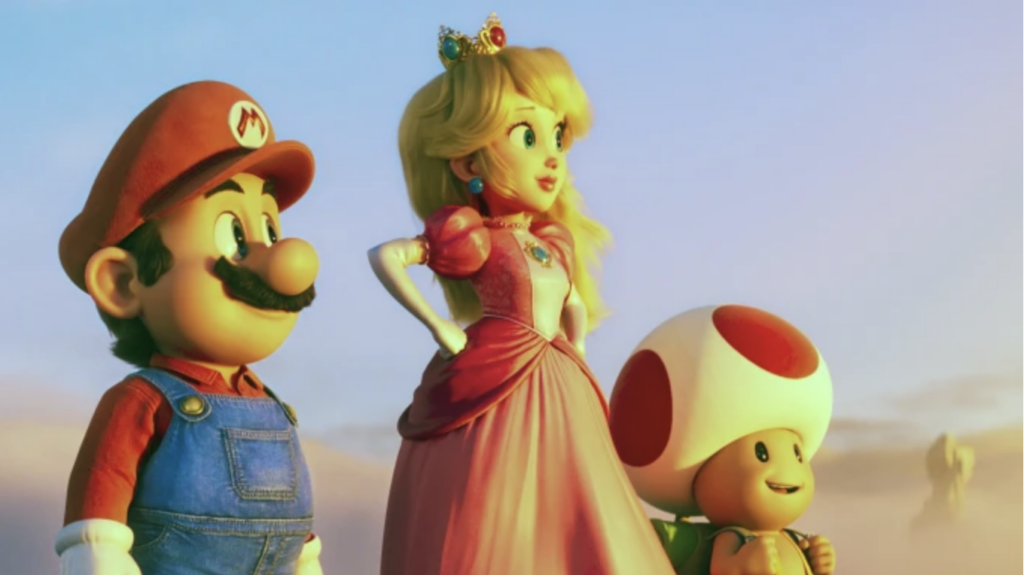 THE WORST
The WORST things about the Film
Weak character development leading to not really caring whether Mario can save Luigi.
They spent too much time being cute and not enough time working the a story.
Some of the time early in the film where they tried to make the movie look like a game, was just kind of stupid. They did it much better later on.
The first half of the movie, I was honestly a bit bored. I didn't active dislike the movie during that time, I just wasn't engaged with it.
Really needed more humor. I've complaining a lot about the overindulgence of jokes in the superhero genre of films, but I felt like the reverse happened here. This could have been a great opportunity to inject a film full of humor to keep it moving. And while, it was silly at times, and I could see them trying to set it up as a funny scene, they too often just couldn't deliver on a funny joke. It feels like they thought "hey, wouldn't it be funny if " so then created that premise, but never went back to finish the joke.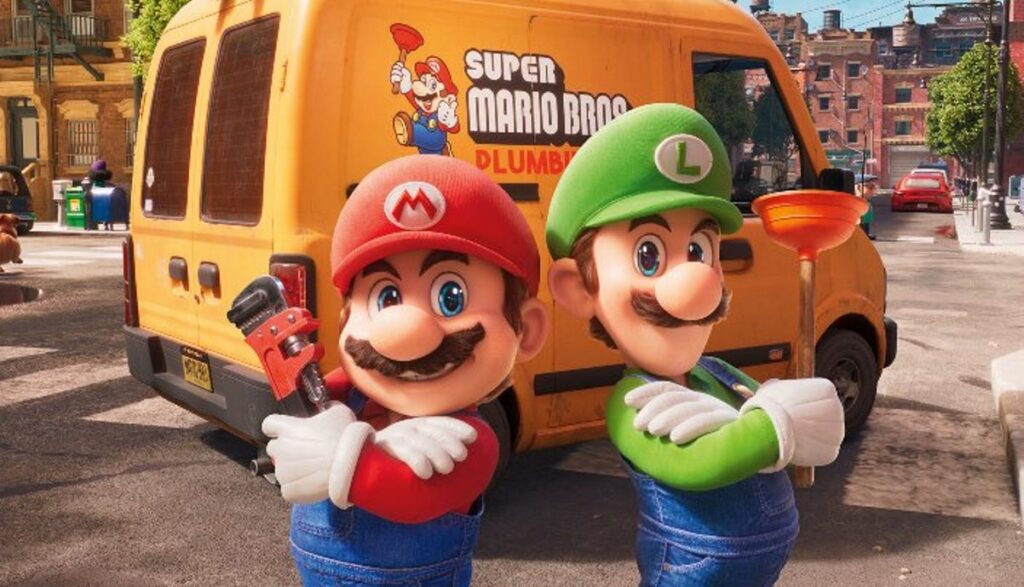 THE COMMENTS
I think when the first trailer dropped for this movie, I was so distracted by the casting of Chris Pratt, but I didn't really think much about what else could go wrong with the film.
I also didn't really think about how much of a kids movie they would be making. Because Hollywood is making a lot of money right now by making movies on intellectual properties that appeal to my Gen X peers. And we are a group of individuals that have strong nostalgia toward our childhood, and are at an age where we can start to afford to see the movies, buy the merchandise and visit the theme parks with our kids. So, I thought they would attempt to make this movie appeal to us. In the sense that they filmed the movie full of Nintendo game nostalgia and include a nihilist perky star, I supposed they did. Gen X loves nihilist characters (or does everyone). But in the sense that the plot really being very simplistic and at times boring, lending itself to a Neftlix original kids movie, it wasn't for us.
Was I expecting it to be Oscar worthy? I don't know, with competing animation studios doing some pretty awesome animated films now. Disney has done some rather amazing films lately that appeal to all ages and I shouldn't only expect that from them. This film would have ended up making a lot more money if it spent less time trying to be cute and more time on the basics of moviemaking. And if you are spending the money to put big movie stars in the film, why wouldn't you attempt to get adults on board who are more apt to spend lots of money on it, if they enjoy it also?
THE LESSON
Together, anything is possible.
AFTER CREDIT SCENES
Two. Stay for them both.
IS IT REWATCHABLE
Maybe with your kids.
THE FINAL WORD
I think when the first trailer of the movie came out I was so focused on the poor casting choice of Chris Pratt as Mario that I didn't realize he was the red herring to lure my complaints to somewhere else. Visually, its animation is fantastic. It's like watching a Mario video game on the biggest screen imaginable. And it gives you a chance to smile, yet rarely laugh, at all the nostalgia Nintendo can provide you, as you are reminded throughout the film of all the different video games you've played over the years. It is a cute movie at times, but done at the expense of just focusing on creating an engaging story. They had the plot points that should have made a really good film, but the writers failed to add character development to the hero's stories. At times I was actually bored, but the second half picked it up a bit for me. Jack Black is a stand out performer voicing Bowser. I didn't hate this film, as I expected I would a week ago, but I can't say I thoroughly enjoyed it. I do think my kids will really have a fun time watching it.
THE VERDICT
My 3L system gives me the choice to Love It, Like It, or Lose It.
I give it a "Like Minus". If you miss it on the big screen, I would rather just play a mario game than watch the movie.
THE TRAILER
THE MEME REVIEW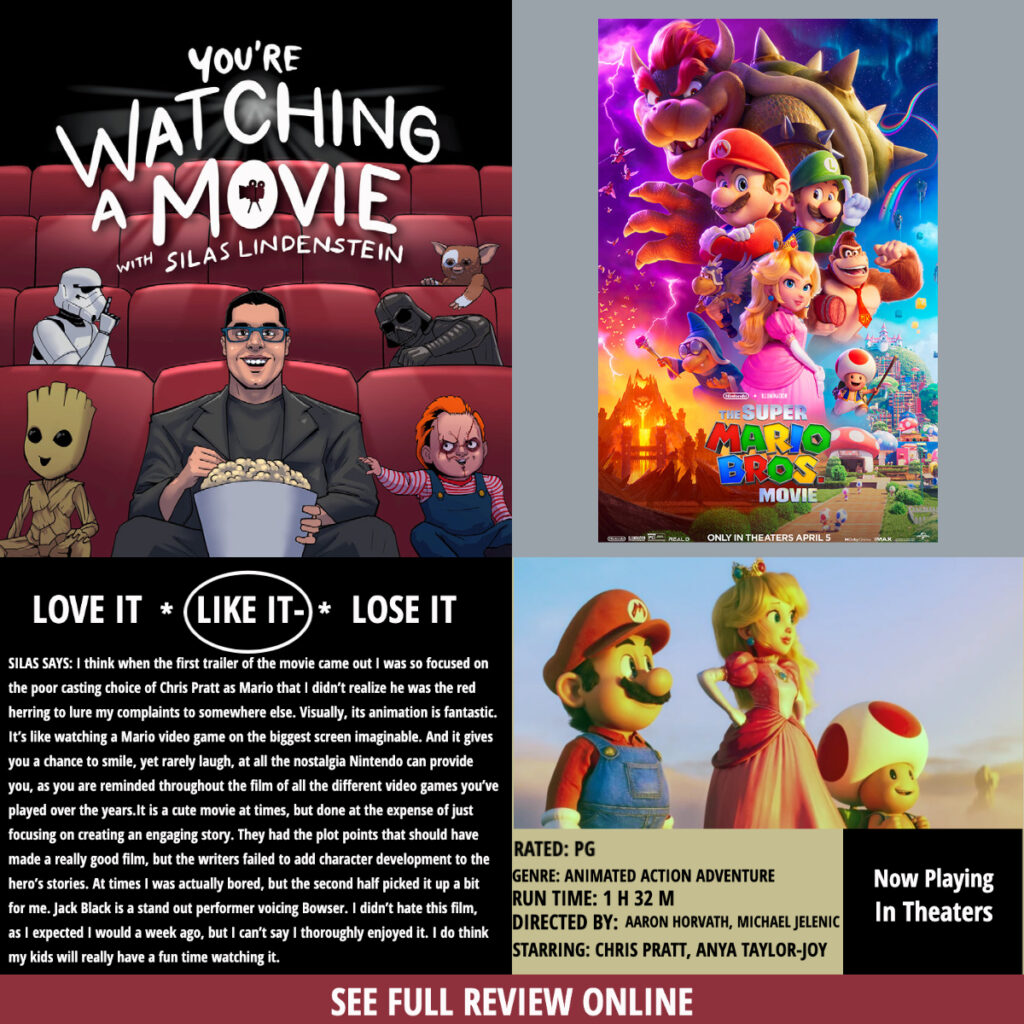 THE AUDIO REVIEW
https://embeds.audioboom.com/posts/8276209/embed/hero#?secret=HO5nHXYDQMTHE VIDEO REVIEW