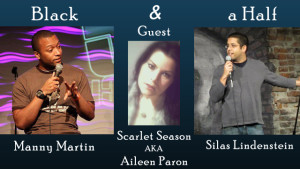 This episode of Black & a Half we must got to sit down with singer Scarlet Season (her real name is Aileen Paron).  Aileen is a renaissance woman! Former actor, now singer/songwriter and a volunteer for Rain City Rock Camp for Girls. We got to find all about how Aileen got started, her future projects and we got to geek out with her a bit about superheroes when had her watch the Man of Steel trailer. We also discovered how Manny started a race riot as a kid. This episode was also taped the day after the Newtown tragedy and we did take some time to speak on that. Despite that, it is a very fun episode.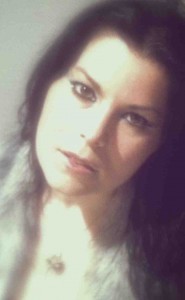 About the Guest
Scarlet Season, aka Aileen Paron, is a one-woman show. Wearing the hats of singer, composer, producer, player and more, this multi-instrumentalist crafts dark and dreamy pop-rock rife with seething bass, lush soundscapes, swirling synths, and pretty pianos. Drawing comparisons to Kate Bush, Bat for Lashes, Tori Amos and Florence and the Machine, she invites listeners over to the dark side on her most recent release, "The Taxidermist." She is currently hard at work on a follow-up album slated for release in Spring 2013. "The Taxidermist
" can be purchased at Amazon.com
  and iTunes as well as CDBaby.
Podcast: Play in new window | Download
Subscribe: Apple Podcasts | RSS