On this episode of Black & A Half, Manny and Silas sit down with the hilarious author, Jacqui Brown. Jacqui talked about her newest book Drop Your Parachute, Not Your Party Pants!
. Jacqui was very motivating and inspiring as a Canadian turned Mexican commercial actress, turned successful self-published author.
About the Guest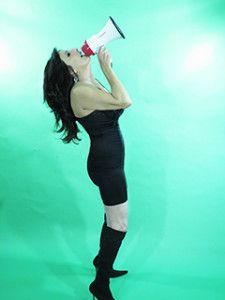 Jacqui Brown is known around the world for stealing the show, even though, as she says, many performances usually take place in the safety of her own home, or in many instances, in her own mind (and oh what a crazy mind it is!) Her humor is often R rated but crosses over seamlessly from Blue Dog Comedy to Laugh USA.  Many people have claimed to spit their coffee right onto their computer when reading her Facebook updates, her twitter feed or her blog
Shit My Vagina Says
. She takes this as extreme flattery, but adamantly states that, "The ruination of your computer is NOT MY FAULT."
Her SMVS blog was turned into the book last year and has been selling like hotcakes. "BITCH PLEASE! has been raved about from all corners of the world. She's been called everything from crass and vulgar to simply funny as hell. She's been loved and hated for her honest and brutal recitations regarding the change.  Yet, she's also been compared to Erma Bombeck, writing in 21st century time, for her crazy outlook on life while traversing her sweaty, estrogen depleted menopause.
Brown is a former reporter for The Los Angeles Times/TCN and is a contributing writer to Vibrant Nation and More Magazine.
Other books by Brown include, "Dancing With The Devil", "Recovery's A Bitch…as if menopause alone wasn't bad enough!",  "Imagine Words", "the MAZE", "Drop Your Parachute, Not Your Party Pants!", and will be releasing her NaNoWriMo winning book, "Trying To Avoid Cars" (book 1) and "The Long Road To Heaven" (book 2), which will be transformed into a screenplay adaption in 2013!
Podcast: Play in new window | Download
Subscribe: Apple Podcasts | RSS