Filmmaker Katherine Dudley joins the program this week. Katherine was the cinematographer for the award winning short film The Final Piece directed by Silas Lindenstein. She talks with Manny and Silas about becoming a cinematographer, their most influential films, compostable straws, and Katherine's childhood growing up without entertainment.
Check out The Final Piece by clicking here.
About The Guest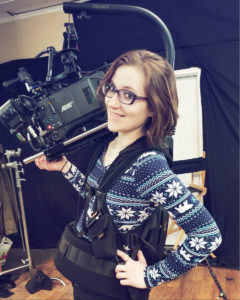 Katherine Dudley is a traveling Cinematographer and Photographer, who's been working professionally in the film industry since 2013. She's shot narrative films, documentaries, and music videos across the US, and has worked internationally in Eastern Russia as well. Katherine's passion for cinematography springs from her lifelong love of literature and storytelling – growing up as a reader, she would imagine all of the details, and longed to be able to bring to life the worlds in the books she read. She describes her style as seeking not to simply capture reality, but to elevate it, and loves the process of building a visual world for every project she shoots.
Podcast: Play in new window | Download
Subscribe: Apple Podcasts | RSS