Chris Zapata, comedian and life coach, sits down comes to Black & A Half to talk movies, dj'ing, Silas' love of disaster movies, Manny's love of rom-coms, and current events. Chris also talks about how he become a life coach and how people can straighten their life our with a coach.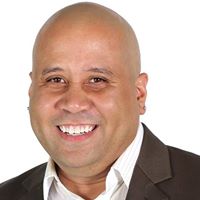 About the guest
Chris Zapata is a native and resident of Seattle,WA.  He has the ability to help people laugh at life, and not take it so seriously. This is what makes his brand of comedy unique —- He relates to the hearts' of the people by sharing his life and everyday events.
"Life is meant to be experienced with lightness" is his message.
When he is not working on comedy, Chris is passionately pursuing to develop himself and better his life. He has trained with over 7 mystics, Spiritual teachers and intuition teachers. His influences stem from Tony Robbins, Les Brown, Mike Dooley and John Price. He  also has trained in NLP and leadership training. Chris gains some of his experience from being a chaplain for 10 years. Chris's mission is to assist people to clear out and release their blocks to live their best life and embrace their greatness.
Podcast: Play in new window | Download
Subscribe: Apple Podcasts | RSS