The Unbearable Weight of Massive Talent (2022)
R ‧ Action/Comedy ‧ 1 Hour 47 Minutes
Written by  Kevin Etten &‎ Tom Gormican
Directed by ‎Tom Gormican
THE CAST
Nicolas Cage
Pedro Pascal
Sharon Horgan
Ike Barinholtz
Alessandra Mastronardi
Jacob Scipio
Neil Patrick Harris
Tiffany Haddish
THE STORY
(In their own words) Unfulfilled and facing financial ruin, actor Nick Cage accepts a $1 million offer to attend a wealthy fan's birthday party. Things take a wildly unexpected turn when a CIA operative recruits Cage for an unusual mission. Taking on the role of a lifetime, he soon finds himself channeling his most iconic and beloved characters to save himself and his loved ones.
THE REVIEW
Nicholas Cage is obviously a massive talent. He has what most actors dream of….a distinct voice and style of acting that draws people.
Above all though, he's an artist. I believe that it takes true artistry to be self-reflective and The Unbearable Weight of Massive Talent is a great opportunity for Nicholas Cage to be self-reflective and self-deprecating. Nicholas Cage shows he is not afraid to make fun of himself and how self aware he is of how the public at large sees him. The film is a clear fictional version of Cage, but clearly painted with a lot of truth. Truths that lesser men may not be able to handle.
The essence of the story is that a financially struggling Nicholas Cage takes a million dollar paycheck to attend a fans birthday party. While there, he learns that his fan may be a high profile drug lord and the FBI wants his help to save a woman they believe is being held on the estate.
The results of this are a wonderful, refreshingly original comedy. Cage is a comedic force in the film. It's a great tribute to Nicholas Cage that will be enriched by how many films of his you have seen, the good and the bad. The film is part buddy comedy, part action comedy, but whatever it is doing, it is consistently funny.
I love how self aware the film is…, it's so layered. It's almost a movie within a movie within a movie. Are we watching what happened or a story told about what happened?
There are really only two points of the film I didn't care for. One, is that I think a film focusing on the celebrity of a Hollywood actor shouldn't have so many other recognizable faces co-starring. I think it takes us out of the film. It constantly reminds me that the story isn't real because Nicholas cage is pretending he's talking to an agent when it's obviously Neil Patrick Harris. Give us unknown actors for these roles.
The second point is the end of the film. I can't tell if they just ran out of time, or just weren't sure how to end it. But I felt as if I was robbed of a solid ending to the film with a little bit of slight of hand.
THE BEST

BEST things about the film
Original
Self-Aware
Pacing
Very funny.
THE WORST
The WORST things about the Film
I don't feel like we get the ending we deserve.
I wish other actors in the film were not so well known. I really like the idea of Nick Cage the movie star being amongst all these regular people. But having other semi-stars around him takes away the potential realness feelings of some of the scenes. I really wish the roles played by Tiffany Haddish, Neil Patrick Harris, and Pedro Pascal were played by unknowns, even though they do a fine job.
THE LESSON
Being a Hollywood star doesn't mean life is easy.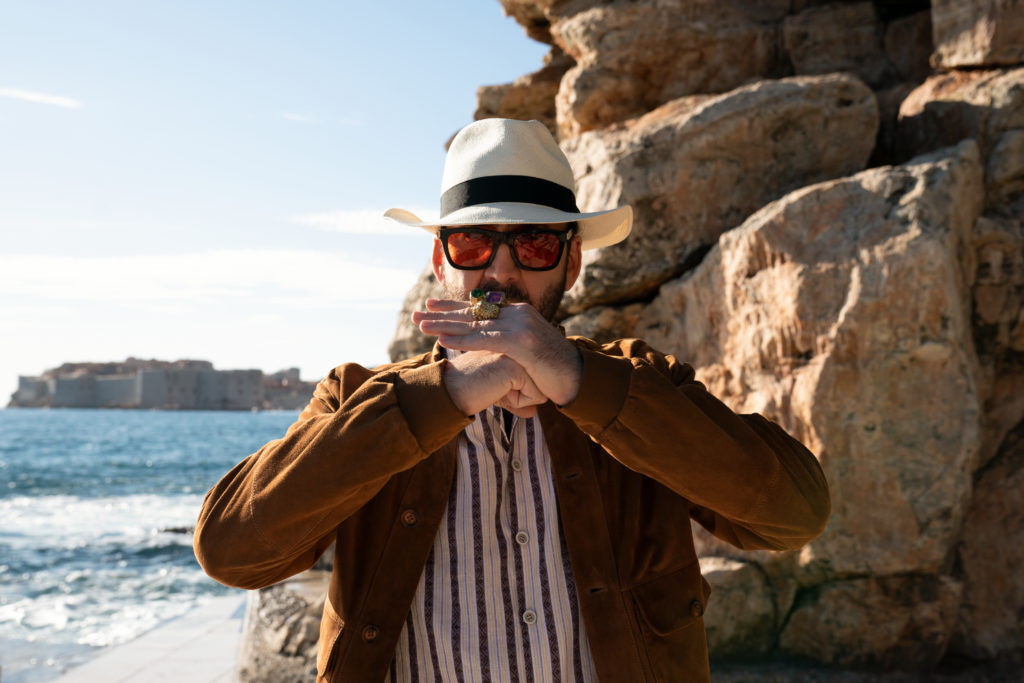 THE FINAL WORD
A very funny love letter to Nicholas Cage that could only work being starred by Nicholas Cage himself. It is hilarious, self-aware, and very inventive.
THE VERDICT
My 3L system gives me the choice to Love It, Like It, or Lose It.
Unbearable Weight of Massive Talent gets a Love It.
THE TRAILER
THE REVIEWER
ABOUT SILAS
When he's not reviewing films or interviewing people for the Black & A Half podcast, Silas Lindenstein can be found in the greater metro Seattle, WA working as a real estate agent helping people buy and sell homes, or performing stand up comedy to fellow nerds. He has a wife and three children and desperately wants to learn to make the perfect homemade pizza.