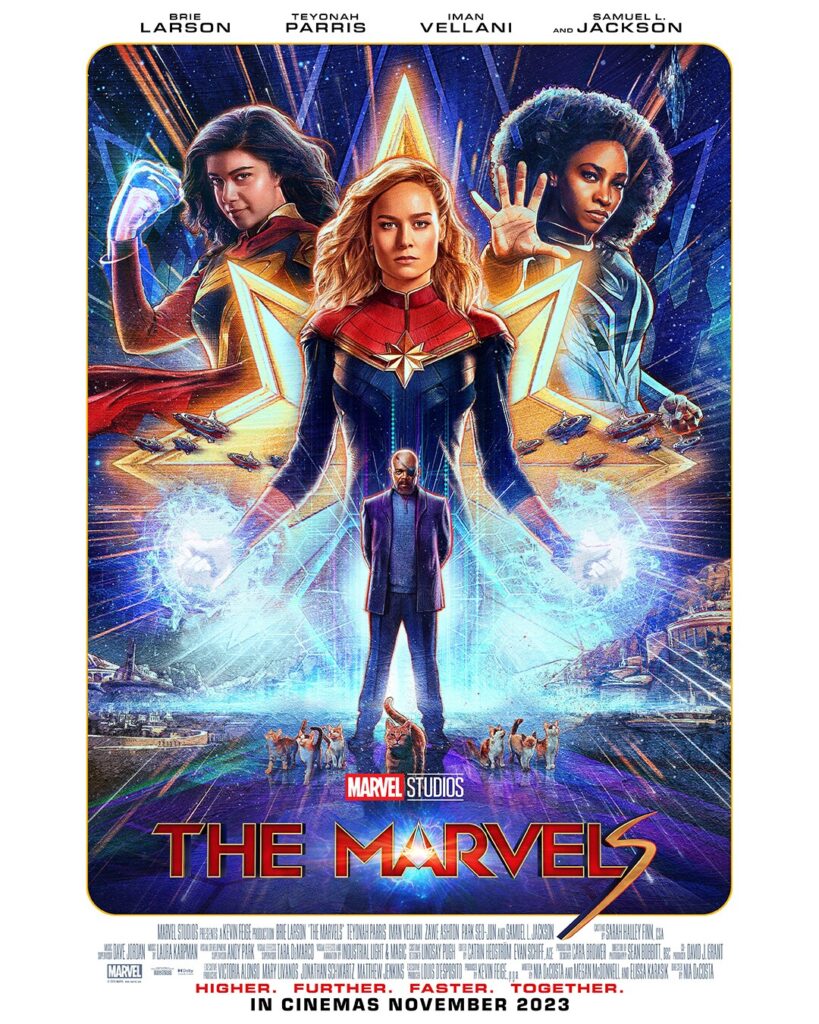 The Marvels(2023)
PG-13  ‧ Action/Adventure/Superhero ‧ 1 Hours 45 Minutes
Written by Nia DiCosta, Megan McDonnell, Elissa Karasik
Directed by Nia DiCosta
THE CAST
Brie Larson, Teyonah Parris, Iman Vellani, Samuel L. Jackson
THE STORY
(In their own words). Carol Danvers, aka Captain Marvel, has reclaimed her identity from the tyrannical Kree and taken revenge on the Supreme Intelligence. However, unintended consequences see her shouldering the burden of a destabilized universe. When her duties send her to an anomalous wormhole linked to a Kree revolutionary, her powers become entangled with two other superheroes to form the Marvels.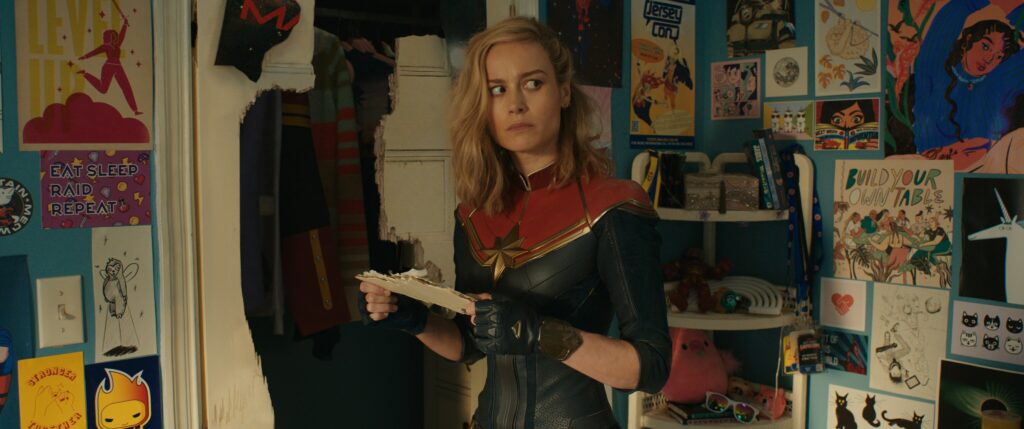 THE BEST
The BEST things about the film
Character/Actor Chemistry: The main three characters of Kamala, Rambeau, and Captain Marvel have great chemistry together.
I liked how we just got dropped into events. Too many movies lately spend a lot of time introducing characters' backstories so that we know every detail about them before they get into the story. I liked that this film trusted us to figure out what was happening or that maybe I didn't need to know the minutiae of each moment. While my experience was enriched by seeing the origin story of Ms Marvel and Rambeau, I didn't need to see those to figure out what was happening.
I like that they spent time developing the good guys in this film and letting us see the origin of this "team."
Film length – Finally, a director confident enough to tell a superhero tale in a brief hour and forty-five minutes. It moved quickly; it was funny, told a good story, and gave me long enough to get invested in all three characters.
Story: It was nice seeing a superhero film back to the basics of fighting some cosmic world-ending threat, but it is still mostly about the characters coming to terms with something in their lives. Too often, these films want to be so grandiose that they forget the little things that bring us back to each film. We want to see why a relationship got broken and how they will mend it. It's important to see that superheroes are also still human.
It's possibly the best post-credit scene in a very long time.
THE WORST
The WORST things about the film
The villain. The villain, Dar-Benn, is not very developed, resulting in us not having hard feelings about them other than a surface-level, "let's stop that evil woman" type of feeling. I've often said that you need a great villain to have a great superhero film.
Inconsistent tone. Sometimes, the film felt like it should be on TV, and then it would get grand for the big screen.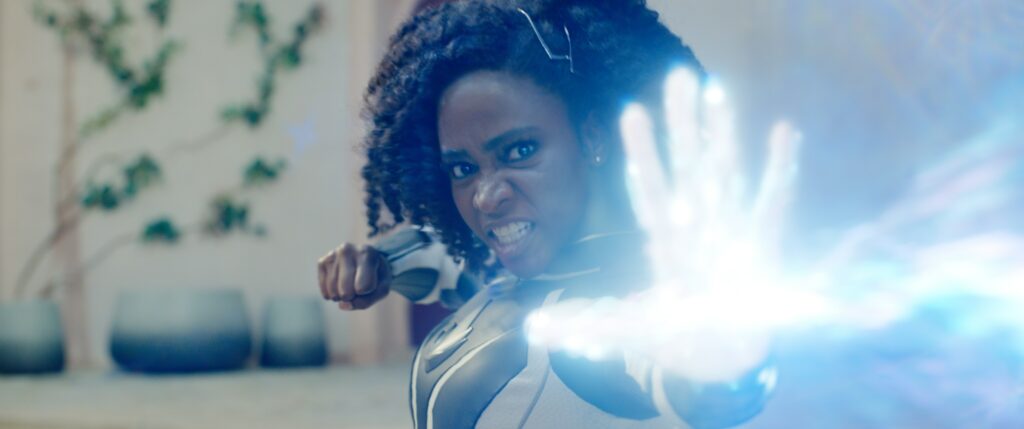 THE COMMENTS
What helps this film is the same thing that hurts it. The villain, Dar-Benn, is too underdeveloped for the audience to get huge stakes into seeing how the film turns out. However, by removing the time to develop Dar-Been, director Nia DiCosta has room to create a visible relationship between the three main characters of the film, Captain Marvel, Ms. Marvel, and Captain Rambeau. Seeing the discomfort between Captain Marvel and Rambeau through the film's first part makes us realize this is about far more than just stopping a villain.
Where The Marvels succeeds is making a fun story that just happens to star three women. Their gender doesn't play much of a role in the film, which is the perfect choice. I think it is the perfect fight against the misogyny of criticism this film is receiving before anyone has seen it. There are people worried that Marvel is trying to send agenda messages by casting a film full of women and non-white actors. Then you see the film and realize the only agenda was making a good story.
A big question people have is whether they need to have watched Ms Marvel or WandaVision to enjoy the film, and the answer is no. Yes, you have to pay attention to the movie. But all the info is there for you to receive directly or to infer. I liked how they dropped us into the story without feeling the need to over-explain every detail about each character's relationship. The answers are there, whether directly said or between the lines. Sure, I think it's even better if you know the full Ms Marvel story, but we get enough to enjoy this film.
What else can be said about this film? It has great special effects, it's funny, and possibly even the humor is on the younger side, but I think that is appropriate as this film might be the closest we've seen to handing the torch to the younger Marvel characters.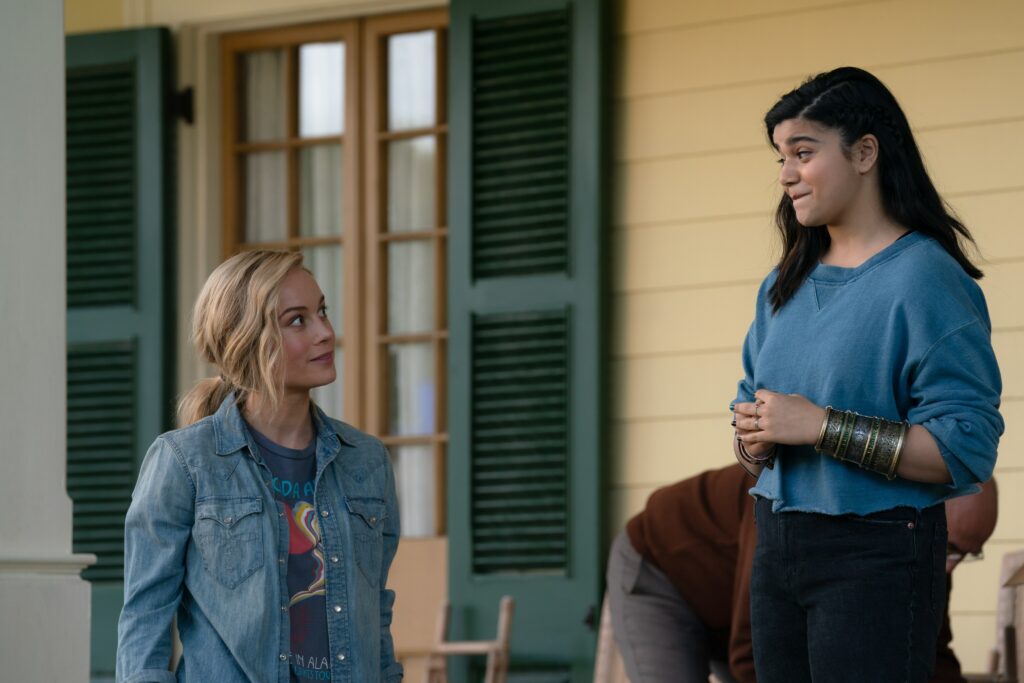 THE LESSON
Don't let embarrassment over your actions stop you from keeping your word to your family.
IS IT REWATCHABLE
Yes.
THE FINAL WORD
A good Marvel superhero film. It's not outstanding, but it does not stand out as bad. It's a real shame that it is currently tracking to lose money. It has a nice plot, a good story, funny, and some great surprises in the film. This should be seen as a step in the right direction. It's probably a lot better from a basic storytelling angle than the last few Marvel films that have come out. The first and only, post-credit scene is as simple as 'must stay" for post-credit scene.
THE VERDICT
My 3L system gives me the choice to Love It, Like It, or Lose It.
The Marvels gets a Like It.
THE TRAILER
THE MEME REVIEW