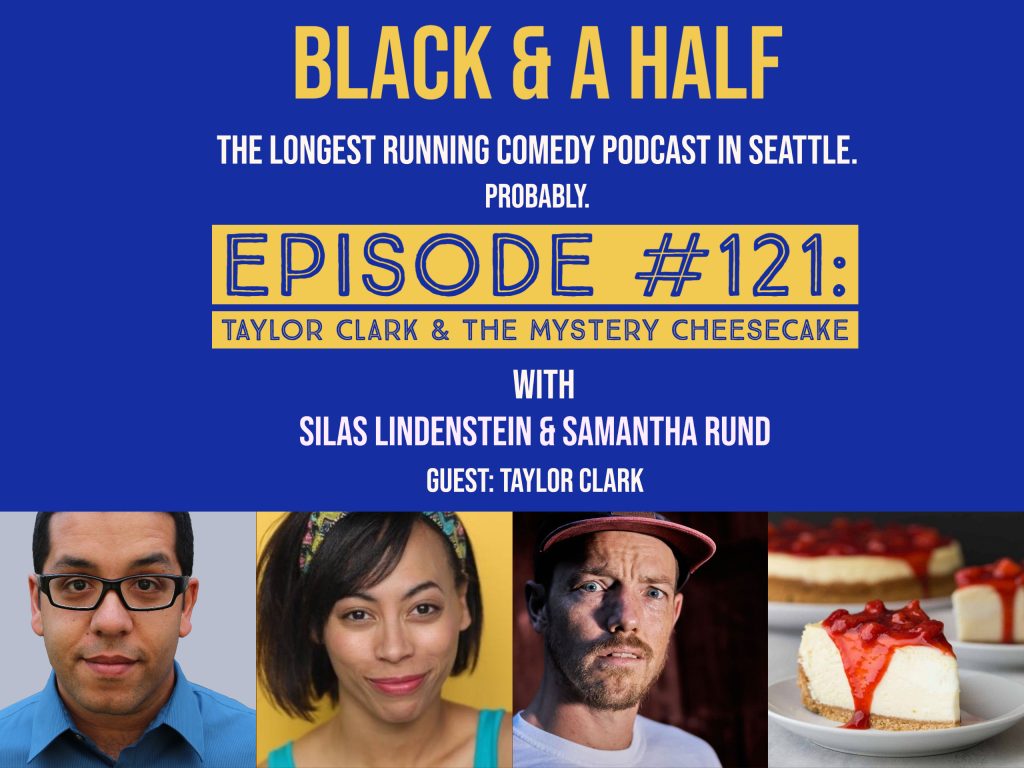 Comedian Taylor Clark stopped by to discuss his debut comedy album coming out at the end of September. He spoke to Silas and Samantha about the Mulan $30 controversy, his origin story, and he answered the world famous 7 Questions.
About our Guest:
Taylor is a Seattle-based comic, husband, father and adult-skateboarder.

He spent the majority of his adult life living and performing in New York City, but, at his core, he was a man destined for the woods. So he is now back in the great Northwest, closer to his forest family and engulfed in all the marvelous wilderness that surrounds them.
Once upon a time, Taylor, with little experience or know-how, started a comedy show in the game room of a Brooklyn apartment building named Castlebraid. There, he hosted and produced a stand-up show for over four years. He even produced a one-off comedy festival in the building. He went on to book stand-up shows throughout the city, in a variety of venues ranging from basements and cafes to more famous venues like the PIT and the Sheen Center.
A lot of the comics he booked are now some of the biggest names in comedy. Names like Reggie Watts, Ali Wong, Mark Normand, Rory Scovel, Michelle Wolf, Keep going? Sure, Phoebe Robinson, Tim Dillon, The Lucas Brothers, and the list goes on. They shared a tremendous amount of knowledge with Taylor of which he mostly ignored.
When Taylor's son was born he put comedy and producing shows on the backburner in order to focus on his family. He assured himself a career in comedy was no longer in the cards and pretty much anyone who knew him was of the same opinion. Considering his biggest accomplishments in comedy were producing free shows and picking up the ability to shamelessly name drop, it was hard to argue for staying in New York because he was "on the cusp". So He packed up his family and high tailed it to Seattle.
Later that year he was asked to audition for the Seattle International Comedy Contest. He was selected to compete, made it through to the finals and finished 5th out of 32. Taylor was the only Seattle-based comic to make it to the finals in 2016.
From that point on Taylor completely dedicated to himself to doing stand up and as of now, he is making "a living" as a comic. In 2019 he performed at the world famous Laughing Skull comedy contest and this year will be releasing his debut album "addictive tickle"
When he's not raising his son, he's either skating, writing jokes, or recording his podcast.

Ways to support Black & A Half!!!

Please give us a 5 star rating and review & subscribe to us on iTunes!

Become a supporter on Patreon for a small monthly donation: www.Patreon.com/blackandahalf
Sponsorship
This episode is brought to you by Silas Lindenstein at Skyline Properties. If you are in the Seattle area and looking to buy or sell a home. Email Silas at Silas@SilasGetsReal.com or text him at 206-351-9230.

If you are out of the Seattle area but looking to buy or sell a home, you can also support Black & A Half by getting a real estate referral partner from Silas. Email him for more info.
Beyond Technique Coaching by Samantha Rund.

Samantha is an actor, comedian, and coach who has performed on stage and screen across the country. Recently, she can be seen on 3 Busy Debras on Adult Swim. She is passionate about enriching and empowering people's lives through the arts. Her coaching business Beyond Technique Coaching uses performance principles to help people bring more of their whole selves ( voice, body, and mind) to their lives and work. www.samantharund.com
Check out her latest coaching video here.