On this episode of Black and A Half, Manny and Silas welcome Seattle singer and songwriter Rachelle DeBelle.  They talk about her journey to becoming a musician growing up in a religious family and fighting the social norms. Rachelle grew up in the small city of Chico that Silas went to college and this connection was made after an open mic they were both attending. They got along great and Silas new she had to come on the show to promote her music.
About Rachelle Debelle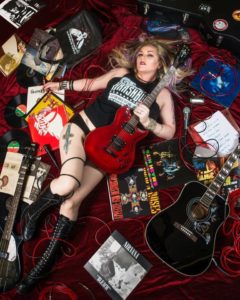 Rachelle DeBelle's musical abilities showed up early. From classical training by the age of 6, DeBelle was being featured in District Symphonies in Southern California before she was 10 years old. She plays 9 instruments, & is the founding member of the popluar California based hard rock group Doctor Luna, as well as Seattle based blues/rock group The Jamfest Miracles.
An unapologetic activist for social justice and women's rights, DeBelle is involved in several organizations dedicated to a more equal distribution of women in music; in particular, her BITCHES BE ROCKING concert series that tours the west coast annually, promoting female artists and their bands.
A songbird that holds nothing back, and can command a room while holding the courage of her convictions.
Find Rachelle DeBelle on all social media.
www.RachelleDeBelle.com
www.DrLunaWorld.com
Podcast: Play in new window | Download
Subscribe: Apple Podcasts | RSS