We are republishing our past episodes to this site. Here is our first every episode from November 7th 2012 : Episode 1 with Maia Strong.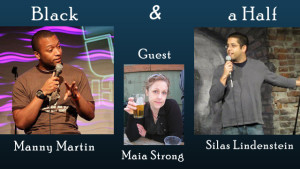 The pilot episode of the podcast Black and a Half with hosts Manny Martin and Silas Lindenstein. This episode they discussed Disney acquiring the Star Wars franchise, the Presidential Election and Maia Strong's upcoming book releases.
About the Guest
Maia Strong is a writer of fantasy, science fiction, action adventure (with dinosaurs, oo!), and now steamy romance.
Podcast: Play in new window | Download
Subscribe: Apple Podcasts | RSS