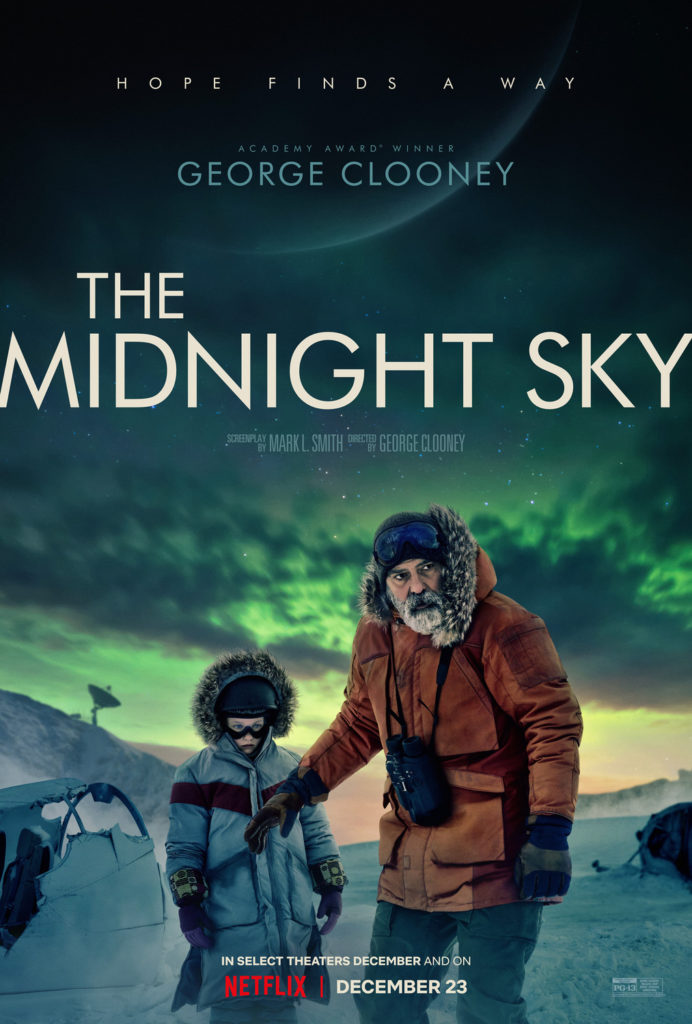 The Midnight Sky (2020)
PG-13 ‧ Science Fiction ‧ 1h 58m
Screenplay by Mark L Smith 
Based on a book by Lily Brooks-Dalton
Directed by ‎George Clooney
THE CAST
George Clooney, Felicity Jones
David Oyelowo
Tiffany Boone
Demián Bichir
Kyle Chandler
Caoilinn Springall
THE STORY
It stars Clooney as a scientist who must venture through the Arctic Circle to warn off a returning spaceship following a global catastrophe.

THE REVIEW
George Clooney stars in and directs this lovely science fiction film about Scientist Augustine Lofthouse, whose life mission to find habitable planets for humanity finds great irony when Earth faces a sudden catastrophe just as a spacecraft is returning from Jupiter's moon to tell the world that it is habitable.
The film follows Lofthouse who has stayed behind at his base while others fled for safety because he is dying from an unknown-to-us disease and so that he can contact the ship heading back to Earth which doesn't know of the planet's sudden fate. Lofthouse then faces off against the horrible arctic weather, which is now even worse because of the Earth's changing condition, as he attempts to reach another base with a stronger antenna that may reach the space travellers.
The film has some surprises, half of which are predictable, as it splits its time between the events in the ship returning home and the events on Earth with Dr. Lofthouse. Though the time on Earth is often filled with flashbacks. The jumping between locations and times, while interesting, becomes distracting. It almost feel like the film doesn't know which story it wants to tell and doesn't have an opportunity to dive into each story too much.
The film is saved by some fine performances by George Cloony and Felicity Jones who plays a pregnant astronaut and communications specialist.
It's a fine film. It's just that. It is enjoyable though it may not take your breath away, though it's special effects might, but being a Netflix original, we never would have had the opportunity to see it on the big screen.
I did enjoy watching a science fiction film where the focus was on the people and not the special effects or the action. It's been a long time since I've seen a character driven scifi film.
Listen to full review at blackandahalf.com/episode-147-tiny-toe-prints/
THE BEST
Three BEST things about the film
1. George Clooney's mostly solo performance scenes.
2. Great job of keeping up the mystery while being vague.
3. Good job of staying within the realm of Science Fiction without getting into fantasy
THE WORST
The three WORST things about the Film
1. Setup was a little obvious.
2. No opportunity for growth of Cloony's character.
3. Movie couldn't decide whether it should be in space or not.
THE LESSON
You will do anything for family.
THE FINAL WORD
This scifi film may not be out of the world but it is at least worth a viewing.
THE VERDICT
My 3L system gives me the choice to Love It, Like It, or Lose It.
The Midnight Sky gets a Like It.