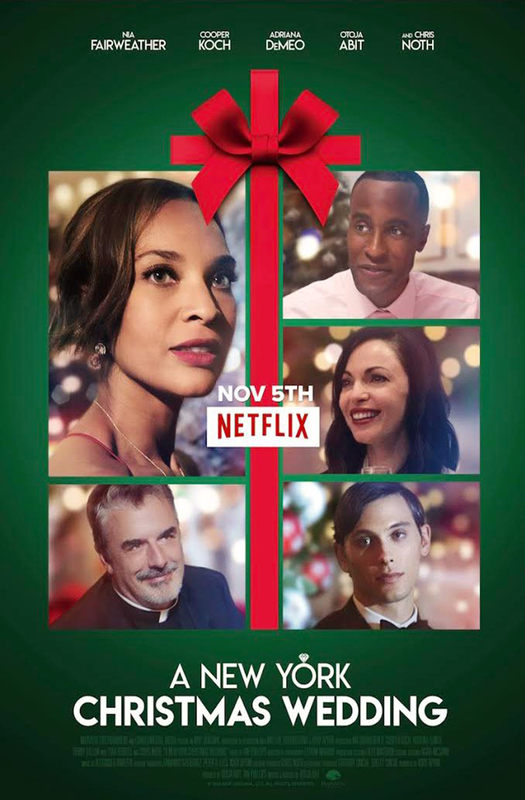 A New York Christmas Wedding (2020)
TV-MA ‧ Drama/Romance ‧ 2h 12m
Written by Otoja Abit
Directed by ‎Otoja Abit
THE CAST
Chris Noth, Nia Fairweather, Chris Trousdale
THE STORY
(In their own words) As her Christmas Eve wedding draws near, Jennifer is visited by an angel and shown what could have been if she hadn't denied her true feelings for her childhood best friend.
THE REVIEW
The search for a new modern Christmas movie to add to my rotation was what brought me to watch A New York Christmas Wedding. The preview clip showed a lot of promise, a Black couple, a guardian angel, a past to re-examine…..ooh! Was this going to be a modern female version of It's A Wonderful Life. Alas, it may have a spark of inspiration from the Jimmy Stewart Classic, but it certainly isn't going to be a classic that the masses will enjoy.

Jennifer is ready to marry a man that she loves. Kind of. In the back of her head is doubt about the life she could have had. Fate decides to let her take a life she would have been like if she had followed her heart and been brave enough to tell her female friend how she really felt about her.
What follows is a lackluster holiday tale of regret and bad choices, and the film tries really hard, too hard to make an emotional impact with the audience. You know what it's like when someone tries to hard to get you to like them? That's this in film form.

THE BEST
Three BEST things about the film
1. Multicultural cast.
2. Kind of a modern twist on It's A Wonderful Life
3. It's a Christmas film that has more to do with
THE WORST
The three WORST things about the Film
1. The whole thing feels low budget.
2. The lack of stakes at the end for her "choice."
3. Lots of the story is forced.
THE LESSON
If you don't follow your heart, you'll never be fully at peace.
THE FINAL WORD
While it is kind of a nice story, it is kind of forgettable and doesn't offer anything new to the Cinemark world.
THE VERDICT
My 3L system gives me the choice to Love It, Like It, or Lose It.
A New York Christmas Wedding gets a LOSE IT.